Metro refrigeration compressor are manufactured in 7 types of single stage and 9 types of two stage (compound) version from 1 two 12 cylinders having capacity upto 590 T.R.
Suitable for industrial applications, Metro Compressors have compact design, built in suction and discharge manifold with large size suction filter for protection of vital parts. All welded steel construction of crankcase unit with provision of unloaded starting system and the safeguard against incidental liquid hammer. The crank case is fully leak & impact proof, the smooth internal surfaces of the crank case provides better condition for lubricants. Every parts is precision made and interchangeable. These compressors are suitable for V-belt and Direct drive system.
Piston / Cylinder Liner:
Pistons are made from special aluminum alloy. Gudgeon pins are case hardened steel and grounded. Cylinder liners are made from special close grain alloy casting, precision boring, horning and pressed into cylinders blocks. These liners can be easily replaced. Hydraulically operated valve lifting mechanism on each cylinder ensures absolute capacity control and fully unloading start.
Connecting Rod:
The connecting rod is die forged. It has steel backed White Metal shells on its big end bronze bearings, While the smaller end has a wear resistant metal.
Crankshaft & Bearings:
Has exceptionally good running metal properties and wear resistance. All bearing surfaces are grounded and dynamically balanced. The main Bearings are white metal lined steel shells, the intermediate bearings are provided with split type for 4,6,9 & 12 cylinder compressor.
Pump with provision of water cooled system too.
Lubrication :
Forced feed system is provided by crankshaft driven gear type oil pump that delivers oil to all bearings and capacity control system.
Shaft Seal Assembly:
The rotary face type, sliding surfaces are grounded to an extreme finish and lapped. Frictional heat is removed by the full flow of lubricating oil that is directly fed from oil pump with provision of water cooled system too.
Standard Accessories:
Every Metro Compressor is dispatched to the customer with the following standard accessories: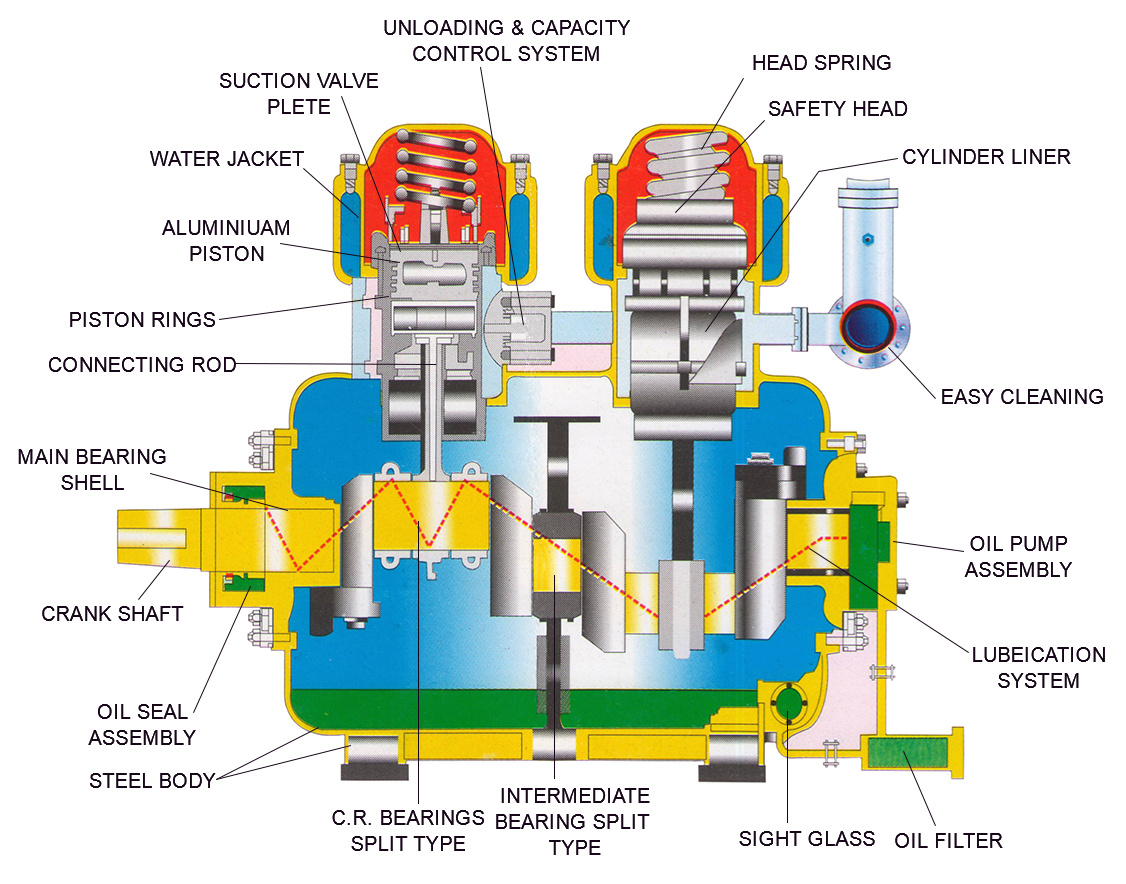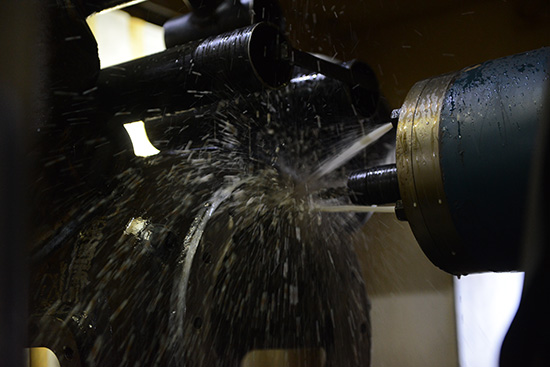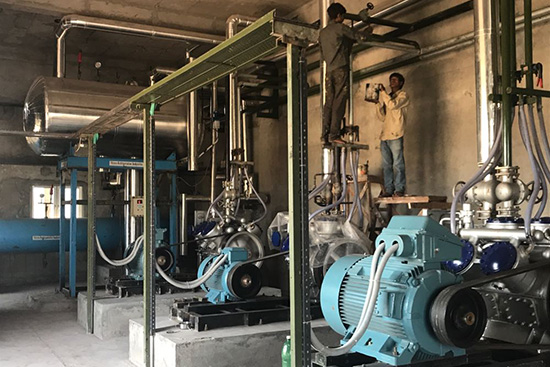 Technical Date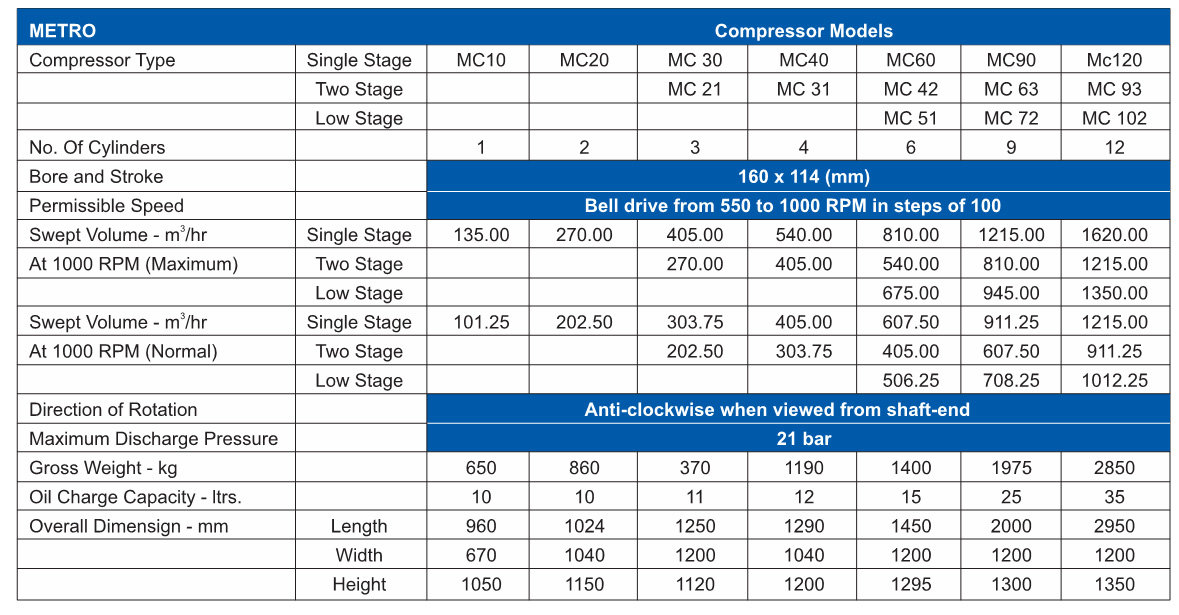 "The performance chart is only a guideline, for other details please contact to us."
Drive Set :
Consisting of V- belts, Motor Pulley & Flywheel
Plain base plate with foundation bolts
Suction & Discharge Service valves (Shut-off valves)
Pressure gauge, gauge board and mounting stand.
Ferrules and pipes
Hour meter
Indicator- Bulbs & Switches
Cut-off switches L-P-H-P. & O. P
Electrically operated capacity control
Oil Filter Set
Rubber Seal Sets
Tools Kit Box
Optional Items :
Base Frame Unit for compressor & Motor with foundation bolts
Crank Case heater for 2 stage
Interstage Cooling system for 2 stage
Oil Separator
Equalizer connections for parallel running of Compressor
Flexible direct coupling with guard
V-Belt guard for Motor & Compressor