We have developed the most advanced range of individually quick frozen technology (IQF) equipment. The food freezing equipment find application in food processing plants for freezing vegetables, fruits, poultry, meat, bakery and other perishable items, significantly increasing the shelf life of the products.
These equipment are ideal for quick freezing with minimal dehydration, gentle product handling and high product quality. Our range of IQF equipment includes box freezer, spiral freezer and tunnel freezer.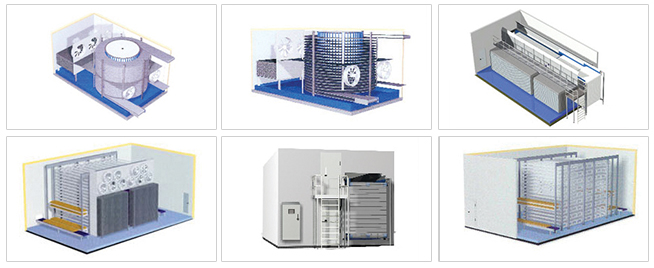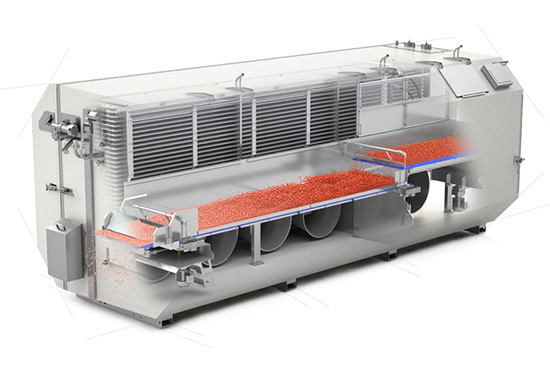 ---
Box Freezer
Multiple retention time
Chill/ freeze simultaneously
Hydraulic operation
PC Control
R 717
Simple robust design
Reliable operation
High efficiency freezing
Spiral Freezer
High Performance Delta Airflow
Increase in heat Transfer rates by 30%
Reduction in cooling / freezing times of typically 25%
Low power consumption
Utilizes "Velocity Pressure" effect from fan discharge
No reduction in access for cleaning
Compact layout options
Low operating costs
Tunnel Freezer
Compact design IQF freezer for vegetables and fruit
Shift or continuous defrosting options with water or hotgas
Layout and design to suit individual requirements
Modular construction utilizing standard design components
High performance centrifugal fans for high thermal efficiency
R717
Easily cleaned and defrosted
Direct drive for low maintenance and efficient operation
Suitable for freezing and chilling of short and medium retention time products such as peas, beans, and many other types of vegetables and fruit.