Evaporative Condenser
Metro Evaporative Ammonia Condensers are heavy duty industrial units that provide efficient, economical, dependable refrigeration for industries. These condensers have a compact design and requires less floor space. Our range of compressors are available in various models with different capacities up-to 453600 kcal with use of ammonia refrigerant.
Features
Condensers Coils:
Heavy duty coils are made from SS 304/MS tubes (Galvanised) for maximum heat transfer at low consumption of power & water. The complete coil unit is hydraulically tested.
Axial Fan:
The rugged high tensile aluminum alloy fan blades are designed to give high air velocity along with years of trouble free service. The multi-blade impeller fans are mounted directly on the motor shaft. The sturdy fan housing are made from heavy gauge metal sheet. Fan motors are of totally enclosed type air-over motor design which ensure long life service.
Eliminators:
Scientifically formed heavily eliminator to control entrained moisture.
Spray Nozzles:
Special metal, easy cleanable and arranged to completely spear condenser coil with water.raulic pressure at our factory to ensure leak proof.
Pump:
Conservatively sized from maximum water quality. Centrifugal type, enclosed electric motor is directly connected to the unit in horizontal position. The suction line of the Pump is constantly immersed in the water reservoir assuring positive water circulation.
Casing:
Heavy gauge steel sheet are used for construction of casings. The units are painted with electrostatic paint for protection against moisture and rust.
Installation:
The refrigerant and water line connections are flanged type for quick installation. The electrical junction box is located on the unit for wiring.
Testing :
The unit coils are tested up-to 25 Kg/Cm hydraulic pressure at our factory to ensure leak proof.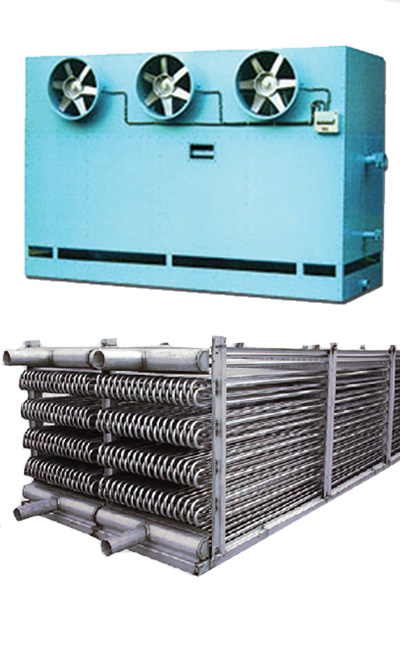 ---

Shell and Tube Condenser :
Metro Horizontal Shell and Tube Ammonia Condensers are available in different sizes in varying capacities ranging from 5 to 250 T.R for any given operating conditions. Baffles in the water heads are provided so as to have the desired number of passes.
Each and every Condenser is provided with vapour inlet, liquid outlet and oil drain connections. Safety valve, water drain and air purge cocks are supplied as standard accessories.
Construction Features
Superior Design:

Metro condensers combine heavy duty construction and efficient design principles for reliable and high capacity performance.
Tube Spacing:

Tubes are arranged for uniform gas distribution, providing maximum heat transfer for a given quantity of water.
Water Head Interchangeability:

Tube layout and condenser fabrication permit complete interchangeability of water heads, allowing a quick field change of water passes..
Complete Line of heavy duty, high capacity Metro Condensers permit the selection of a condenser most suitable for any specified operating conditions.
Shell:

Ammonia vapours enter the shell and get condensed by rejecting the heat to the circulating water. Smaller diameter shells are of E.R.W. type, shells larger in diameter are fabricated from flange quality larger carbon steel plate.
Connections:

Companion flanges are furnished for vapour inlet and liquid outlet vales. Water connections for smaller condensers are threaded, larger condensers are provided with flanged connections (connections are sealed with welded end plates for shipment).
Test Pressure:

Hydrostatic test pressure is 26.4 kg /sq cm gauge (375 psig).
Finish:

Special finish with rust preventive primer.